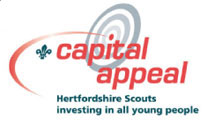 A big thank you to all the leaders that brought young people to Saturday's sponsored event to raise money for the County Capital Appeal and Phasels Wood Campsite.
It was good to see over half of the District's Groups represented and Beavers, Cubs and Scouts enjoying the activities.  Roger Sands, the County Capital Appeal Co-ordinator was pleased to see all that was going on and the support that the District is giving to the appeal.
I would be grateful if leaders would now encourage their young people to collect in their sponsorship money and hand it in.  Please would leaders arrange for one Group cheque to be forwarded to the District Treasurer (Dave Fleming) at their earliest convenience.
Thank you for your help and support with this event.
Keith Gower
District Chairman & Event Organiser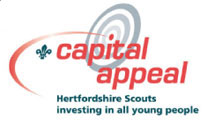 The District are holding a sponsored activity on 8th October to raise funds for the County Capital Appeal which will lead to the development of facilities at Phasels Wood Camp Site.
Hard copies of these letters have been produced and are available for groups to distribute to their young people.  If you require yours urgently to post in a mailing or because you are starting your meetings soon please call me and I will arrange to deliver to you.
I hope that the hard copies of the young people's information and sponsor forms can be distributed to them at an early meeting of the new term and that you will encourage them to start collecting sponsors as soon as you can.
If there are any queries about the event please don't hesitate to contact Keith Gower, District Chairman.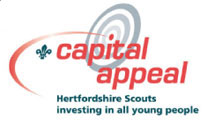 Hemel Hempstead District Scouts are delighted to announce that there has been yet another Hemel Hempstead prizewinner in the Scouts Lottery.
On Friday 15 July, Mrs Pat Rudge was the lucky winner of £50.  Pat, whose family have been Scouting for several generations, said "It is a lovely win".
This brings to four the number of winners from Hemel Hempstead since the Lottery started in May (One Jackpot of £1000, 1x£50, 2x£10).
It seems that Hemel Hempstead tickets are doing well in the weekly draws – click here to buy your ticket.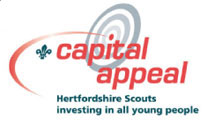 Although the new Hertfordshire Scouts Lottery has been running for just ten weeks, already a Hemel mum has won the £1000 Jackpot prize.
Sue Stainer of Barley Croft, who has a son in the Explorer Scouts, has become the latest lucky Jackpot winner.    Sue, who has been a helper at the Scout Shop for several years, said "It will be very useful just in time for the holidays".
Sue is not alone in her good luck – another Hemel family has already had two smaller prizes.    Vince and Debbie Allen of Goldcroft, who have two children in Leverstock Green Scouts, each had a win of £10 on separate draws in May.  As Debbie said:  "It's like lightning – you never expect it to strike twice".
Raising funds for Phasels Wood and Tolmers Camp Sites (Saturday 8th October 2011) @ Cavendish School.
The District has committed to support the County Appeal by holding this event.  Every Young Person in the District will be expected to collect sponsors, complete the activity and donate all funds raised to the Appeal and every leader will be expected to support the event in whatever way they can.
The intention is that the majority of the young people in the District will collect sponsorship for completing as many bounces as they can in one minute on a 'Bouncy Castle'.   Older Scouts and Explorers may choose to collect sponsorship for completing a 'Walk' instead.  Everyone will come to Cavendish School on 8th October to take part in their sponsored activity as well as many other fun activities and games which will be there to enjoy.
What's in it for leaders?
The Private phase of the Appeal has reached the sum of £350,000 and still rising, but there is a long way to go yet ! Detailed background information is on the District website (click on the Capital Appeal link on the first page).
The County Lottery is also progressing well – as of end June 2011, we had approaching 800 members signed up.
Please encourage people to fill in their forms and to actually send them off to the Freepost address quickly. Many people we have spoken to recently who have said "Yes, I've had the leaflet, I really must get round to filling it in!! Please get the message out to your Group members that now's the time to do it!
Other news:
Lottery sales in HH District are among the best in the County, but more are needed. Remember, it offers £1000 for £1 stake each week. There have already been two winners – of smaller amounts – in HH District.
Please remind your members that sales to family friends and relatives can continue throughout the summer . . . and don't forget new members joining ! This is a permanent lottery which will provide income for your Group. Entry forms are available from me, or on the website www.hertfordshirescouts.org.uk/lottery That site also carries the list of winners. A Group in another District, with ethical objections to a Lottery, decided to make a donation instead from a levy on subs . . . this is perfectly acceptable of course.
White Water Duck Race (4 Sept) entries are now available in smaller blocks of 50
For more information and ticket sales please see www.amwellrotary.org.uk/duck_race/tickets.html
Sponsored Activities (8 October) now include a sponsored walk to Phasels Wood: details and registration forms available shortly.
Thank you for all your support to the Appeal – please keep up the good work !
Best wishes
Mike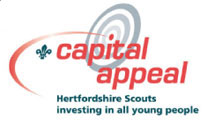 Firstly, I am delighted to tell you that the "total to date" for the Capital Appeal today reached £330,000. This is good news and for sharing with Districts and Groups – we are clearly making progress now. I am also hopeful of some more good news coming in over the next few weeks. I'll keep you informed.
The County Lottery is progressing wel – as of 7th April 2011, we had nearly 600 members signed up.
What is now needed is a considerable push for people to fill in their forms and to actually send them off to the Freepost address quickly to be in time for the first draw which is scheduled for Friday May 6th. Many people we have spoken to recently who have said "Yes, I've had the leaflet, I really must get round to filling it in!! Please get the message out to your Group members that now's the time to do it!
Roger Sands – Appeal Director
Every 6 months, a FREE Activity Day for up to 50 young people/adults will be won by the Scout Group selling the most Lottery chances in the County Appeal lottery. This will cover sales accredited to that Group in the preceding 6 months. The first 6 months will run from January 2011, when leaflet distribution started, to the end of July 2011, and every 6 months thereafter.
The first FREE Activity Day can be taken in October 2011 at Phasels Wood, with the next one in March 2012 at Tolmers, and so on for as long as the lottery is running for.
The day will consist of 4 different activities and will last for 4 hours. Age and height restrictions may apply on certain activities and may not necessarily be instructor led.
I have just received an e-mail from Ken Scott (International Fellowship of Scouting Rotarians) who has told me that the local Rotary District (Covering Beds, Bucks & most of Hertfordshire) has now formally agreed to support our Appeal. That means that they will be offering their help and support for the swimming or similar events that are scheduled for the first week in October (1st – 8th) this year. They have all the Champions contact details so hopefully it will be a good week for the Appeal. If it all goes according to plan, £100,000 could be raised that week for the Appeal
Please go ahead with booking pools etc and we will work with David King our man in Potters Bar Scout District and Brookmans Park Rotary Club to get the paperwork out in good time.
Sean in Harpenden is going to provide some more Lottery leaflets to them (200) at their request, so it all adds up!!
More news at the weekend about a new incentive for Groups to sell Lottery chances and more info on use of Phasels Wood and Tolmers.