The Chief Scout has recognised 4 adults from Hemel Hempstead with "St. George's Day" awards for good service. These awards recognise their services to Scouting locally over a sustained period of time.
Bar to the Award for Merit
Mike Reeve – 1st Hemel Hempstead & Scout Active Support Member
The Award for Merit is given for outstanding service of not less than 12 years.  It implies keen, conscientious, imaginative and dedicated service over a sustained period.
The Bar to the Award for Merit may be awarded after a period of not less than five years of further outstanding service.
Bar to the Silver Acorn
Richard Haynes – 1st Leverstock Green, District Executive & ACC (Cub Scouts)
John Larkin – 2nd Hemel Hempstead & 8th St. Marylebone
Colin Rivett – District Team & District Executive
The Silver Acorn is not normally awarded until after at least an Award for Merit has been gained and a further five years' service has been completed. Thus, it is seldom awarded for less than 20 years service, which should be specially distinguished and appreciably better than outstanding.
The Bar to the Silver Acorn may be awarded for at least a further 5 years of similarly distinguished service.
I am sure you will join me in congratulating Richard, John, Colin & Mike and thanking them for their ongoing dedication to supporting young people in Hemel Hempstead.
I am delighted to announce that the Chief Scout has awarded the following individuals with the Chief Scout's Commendation for Good Service. These awards recognise individuals who go "over and above" what's expected of them in their Scouting role.
Full citations will be read when the awards are presented, but below gives you a flavour of why each of them was nominated by someone else in the district.
Vince Allen – for supporting two sections each week at 1st Leverstock Green, Bushcraft and always being willing to help with practical repairs and making new activities.
Sean d'Arcy – for consistent reliability at 1st Leverstock Green Scout Troop (both on Friday evenings and with other tasks) plus support at many district events, particularly co-ordinating the district's bases at Green Beret.
Christine Dickens – for her help with numerous district activities, both on the day and "behind-the-scenes".
Lina Dyble – for her role as assistant treasurer at 1st Leverstock Green, helping at the scout shop, district events and to recognise her previous efforts supporting the district with admin tasks.
Jason Farmer – for efforts as Scout Leader at 1st Bennetts End, the district Bushcraft activity as well as helping St. Albans at Lochearnhead and with their gang show for the past few years.
Andy Glass – for continuing to give 1st Bennetts End stable leadership over the last 5 years plus supporting the organisation many districts activities and a pivotal role in Cubjam 2013.
Jo Hirons – for co-ordinating the Young Leader scheme and being part of the District's appointments advisory committee on top of supporting weekly Explorer meetings and weekend events.
Alan Oxtoby – for supporting the Explorer section as ESL in addition to his role as ASL at 1st Leverstock Green and support at many district activities.
Kerry Sayers – for supporting 1st Gadebridge as well as Beaver Colonies and Cub Packs at 1st Apsley and numerous district activities.
Maureen Shelley – for many hours spent administering district activities in addition to her tireless work as District Explorer Scout Administrator.
Robin Smith – for his support with the district sailing activity evenings and being AESL in St. Albans, as well as being an ESL in Hemel Hempstead.
Nominations for awards can be made at any time during the – individuals being put forward for awards must have at least been involved with Scouting as an adult for at least 5 years (unless in very exceptional circumstances) and have completed the training required for their current role(s).
If you wish to nominate someone, please email awards[@]hemel-scouts.co.uk
Congratulations go to  leaders who have been presented with certificates this month for completing their training and/or to recognise their service as volunteers with the Scout Association:
Chris Larkin (2nd Hemel Hempstead) – completion of wood badge
Gavin Howard (1st Kings Langley) – 10 years adult service
Martin Brooks (2nd Hemel Hempstead) – Chief Scout's Commendation for Good Service
Steve Mooney (2nd Hemel Hempstead) – 20 years adult service
Tony Gaines (4th Hemel Hempstead) – 5 years adult service
Ben Wiggins (1st Leverstock Green) – 10 years adults service
James Board (1st Leverstock Green) – 10 years adult service
If you would like to nominate someone for the Association's adult awards, check the link then all you need to do is email awards[@]hemel-scouts.co.uk with the name and a brief reason why they should be nominated… the appointments secretary will research which award (if any) they are eligible for and write up the citation accordingly, with help from you if necessary.
Awards for long service are issued automatically by the Association's awards team.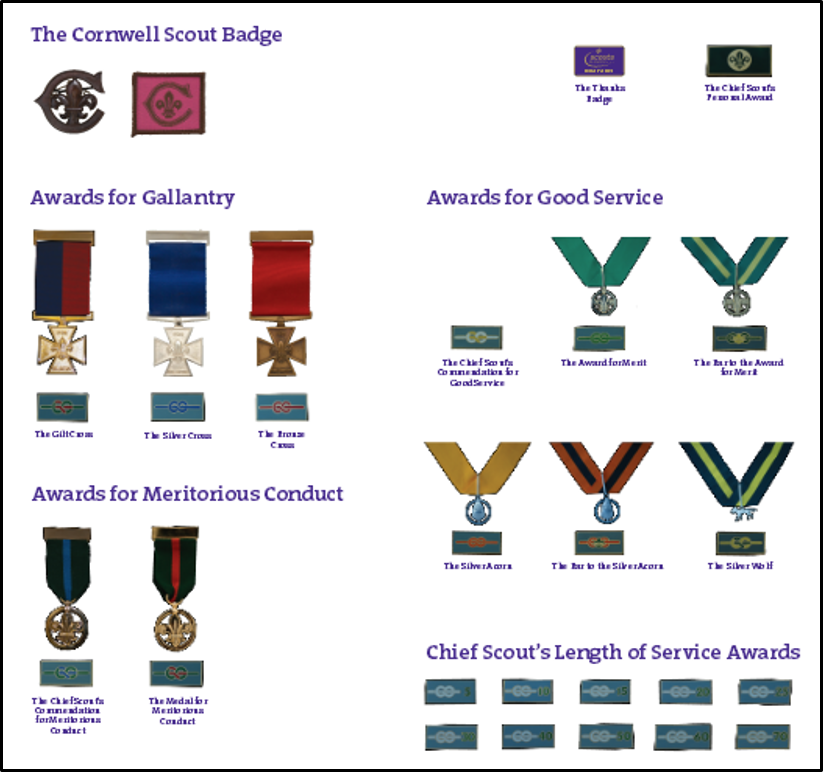 Good service awards are made to those whose contribution to Scouting stands out and the citation should seek to explain and evidence how this is so. What makes the service special is the way in which the duties have been performed.
This may mean that, in addition to running a good Section programme, the nominee has, perhaps, given regular good service raising funds for the Group, in the maintenance of a headquarters building or campsite, in the organisation of District events, serving on a campsite service team, editing a newsletter, helping with adult training in the County, and so forth.
All you need to do is email awards@hemel-scouts.co.uk with the name and a brief reason why they should be nominated… the appointments advisory committee and I will research which award (if any) they are eligible for and write up the citation accordingly.
Further details can be found at: http://members.scouts.org.uk/awards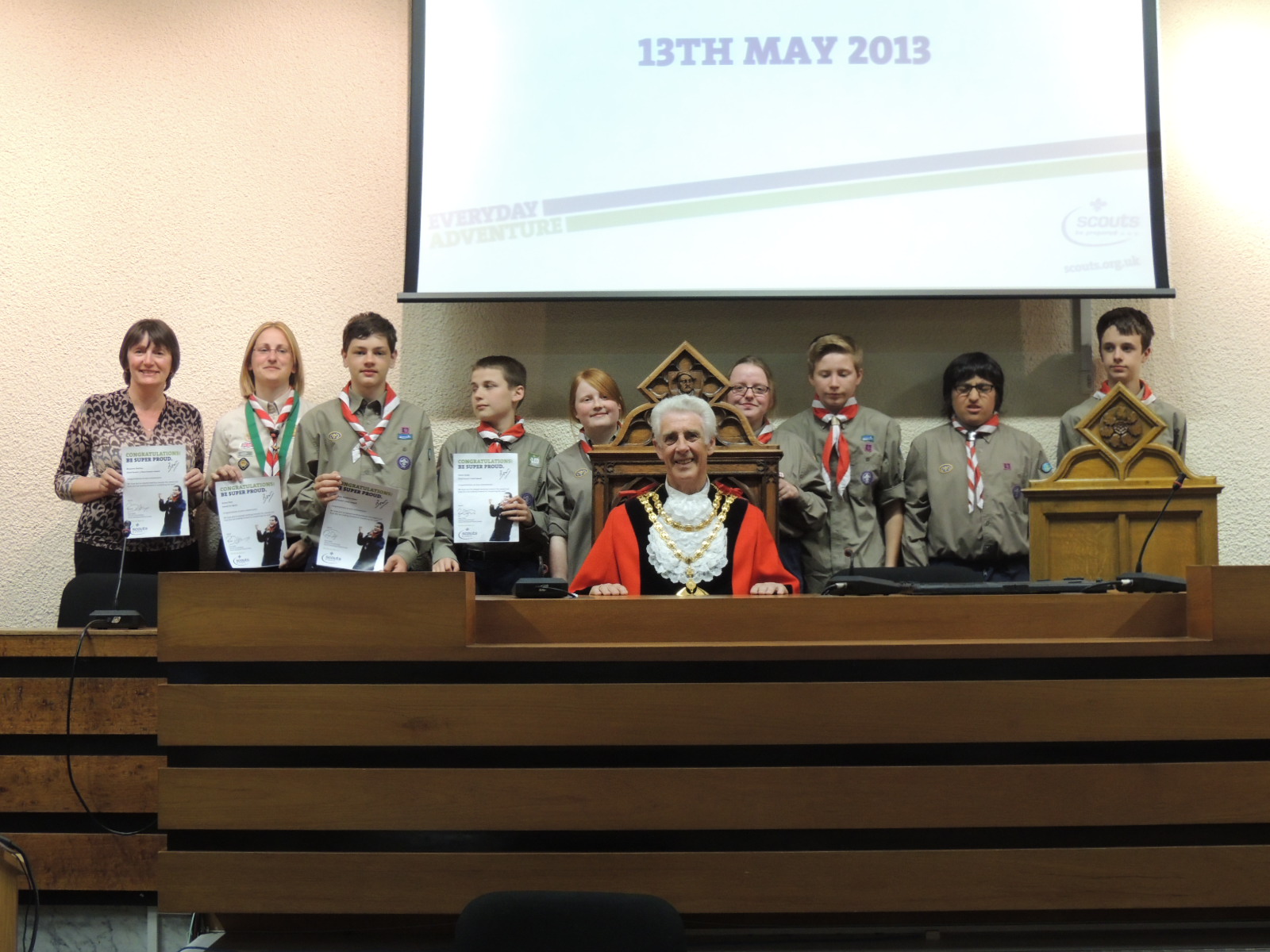 Last night, the achievements of 156 members of Hemel Hempstead district scouts were celebrated at our first awards evening for chief scout award achievers and adults who have receive long service or other national awards from the Chief Scout. These certificates have all been issued since St. George's Day 2012.
In total over 70 young people and adults came to the celebration, where they received a certificate recognising their achievements from our district president, his worshipful the Mayor of the Borough of Dacorum – Councillor Bert Chapman.
During the evening there were also a number of videos shown so that each young person could see what they had to look forward to in the next section – the Beaver Scouts and Cub Scouts were sat eyes-wide-open and jaws-dropped at the video of the Scouts and Explorers at Winter Camp 2013… what a great advert for moving on when the time comes!
The evening ended with a video message from Chief Scout, Bear Grylls, congratulating all the award recipients and encouraging them to continue their Scouting adventure.
One leader who was there said: "Just wanted to say well done on last night it was so lovely to see so many Beavers Cubs Scouts and Leaders achieve their awards".
Below are a small selection of photographs taken on the evening, if you would like a copy of the picture of you (adults) or your son/daughter (parents), please email awards@hemel-scouts.co.uk
Congratulations go to  leaders who have been presented with certificates this month for completing their training and/or to recognise their service as volunteers with the Scout Association:
Margaret Griffiths (4th Boxmoor) – 5 years adult service
Keith Emerton (4th Hemel Hempstead) – 20 years adult service
Jan Maddern (7th Hemel Hempstead) – 5 years adult service
Maureen Shelley (Explorer Scouts) – 5 years adult service
Clive Borgeat (1st Hemel Hempstead) – 20 years adult service
Aimee Hart (Explorer Scouts) – Award for Merit
Congratulations go to  leaders who have been presented with certificates this month for completing their training and/or to recognise their service as volunteers with the Scout Association:
Robin Smith (Explorer Scouts) – Wood Badge as an Explorer Scout Leader and 5 years adult service
Frank Monnington (Explorer Scouts) – Wood Badge as an Assistant Explorer Scout Leader and 30 years adult service.
John Gardener (Sailing Team) – 25 years adult service
Patrick Wilks (1st Leverstock Green) – 10 years adult service
George Sylvester (1st Kings langley) – Wood Badge
Geoff Angell (Scout Network Leader) – 5 years adult service
Simon Nash (1st Kings Langley & District) – 25 years adult service