A total of 130 cubs from 10 Hemel Hempstead scout groups have been working to achieve their Astronomers' Badge.
To help them reach their target, 14 bases were set up at Hobbs Hill Wood School including: Design Our Own Constellation; Eclipses; Quizzes, Building Solar System Models; Building Rockets, IT Research and more.
This is the start of a three-year cycle that will see set days for cubs to work together in order to gain activity badges, such as Artist, Scientist and Astronomer, on a rotational basis.
9 teams from Hemel Hempstead District Scouts this weekend competed in Green Beret, the biggest, toughest countywide annual Scouting challenge. The weekend consisted of sleeping in sub zero temperatures and completing various optional activities, and a compulsory assault course and orienteering task. 117 teams in total took part in the competition and a further 29 training teams joined in the fun, camping at Gilwell Park, the 'home' of Scouting in the UK.
Teams of 6 Scouts entered the competition which was broken into three sections on Saturday: morning, afternoon and evening, with activity bases opening at 8am and closing at 11pm. Together they completed as many bases as possible, and they were marked on various criteria. Each team's 10 highest scores were added to their mark for the assault course and orienteering challenge, and counted towards the total.
Activity bases varied in nature between physical and intellectual challenges.  Examples of bases included a cannon run, an over-the-scout-van-climb, a giant hoopla, a pole climb, karaoke, world flag quiz, geography quiz, puzzles, music and listening challenges, 4-in-a-row, card games,  crossing a minefield, and many others.
Hemel Hempstead Scout Groups joined together opting for a central District catering facility, and Leaders cooked a hearty three course meal of roast beef and all the trimmings to ensure our Scouts were well fed and warm before starting the evening's activities. Kings Langley Scouts serenaded the cooks to a rendition of Bohemian Rhapsody while they waited to be fed. With temperatures overnight plummeting to -4'C everyone woke to a beautiful frost trimmed view of Gilwell's Tent City on Sunday morning!
The highest placed teams from Hemel Hempstead District Scouts overall were 1st Leverstock Green B and A, who finished in 9th and 10th places respectively. 1st Leverstock Green B were placed 3rd in the activity bases, while Leverstock Green A came 2nd in the assault course, with 1st Apsley Geese close behind in 4th. All the teams from Hemel Hempstead gave 100% effort and the Leaders across the District are very proud of their achievements.
84 Scouts, 2 veterans, serving troops, leaders, ambassadors and an MP… armed with shoe boxes and heaps of goodies, and a gift from a new supermarket.
8th November was all about packing boxes for our brave troops in Afghanistan. In less than 20 minutes our fantastic team cleared this room and packed 306 shoeboxes which were then transported to Mike Penning's office to be sealed and sent directly to the troops in time for Christmas.
We would like to thank Aldi who provided a whole pile of goodies even before they open their new store, all our visitors, leaders and young people for the most fantastic team effort, WELL DONE!
Mark Mitchell, CEO of Community Action Dacorum and Local Ambassador for Hemel Hempstead District Scouts said: "Thanks for inviting me to be part of last night. It was super to see 100+ scouts and leaders getting so involved and with such enthusiasm"
Scouts from 1st Leverstock Green spent the evening tackling a range of assault course obstacles at Lees Wood in preparation for the Green Beret Challenge, which takes place mid-November.
During the evening they rotated round a series of bases, including the Lees Wood assault course and tunnel system, a timed run carrying a pioneering pole, scrambling over an 8ft high wall, crawling under cargo nets, pulling themselves along a suspended rope and climbing a rope ladder suspended from a tree.
The evening was one of four spent preparing for the County competition – previous weeks included a range of physical bases and an orienteering activity in Verulamium Park last week. Next week sees them take a set of intellectual bases.
Hundreds of Beavers, Cubs, Scouts, Leaders, families and friends from across Hemel Hempstead District wended their way to Phasels Wood on 13th October to find themselves face to face with a Bear!
With a promise of traffic chaos many of our young people hiked to the event from points across the west side of Hemel, with an army of leaders and parents to escort them. As always, everything was organised so well that there was no queue to be seen on the A41 after all.
The GR8 BIG B@SH was the biggest party the campsite has seen since Sunrise back in 2007 when several thousand members camped overnight and renewed their promise to commemorate 100 years of Scouting.
This time the celebration was due to Hertfordshire Scouts having recently announced that membership of Scouting in the county is now at its highest ever, with 16463 members across all ages.
The party was also part of 'Bear in the Air'. Bear Grylls, our Chief Scout, has taken to the skies recently to visit as many major Scouting events as possible, and even the cold, wet weather didn't keep him away. With his helicopter grounded due to low cloud, he arrived by car to a crowd of 3,500 and a carnival atmosphere.
With just a few words on stage to thank the young people and adult volunteers, Bear's message that we need more helpers to fulfil the Scouting programme was loud and clear. Then he waded his way through the crowds of young people to see first hand some of the fantastic activities that are available at our local Scout site.
The cloud lifted, the helicopter arrived and whisked Bear off to his next adventure; but not before he had signed scarves, 'high fived' hundreds and been snapped thousands of times! Our Explorers from HHEX escorted their hero throughout and were feeling very pleased with themselves after he had gone.
Scouts from 1st Leverstock Green have been tackling a giant pioneering project over the past two weeks – securing in place a giant obstacle courses made out of wooden poles, cargo nets and lashing rope. Once built, the Scouts had to tackle all the obstacles in turn as a team to see which was the fastest round the course.
We don't tie knots all the time but when we do, we do it in style!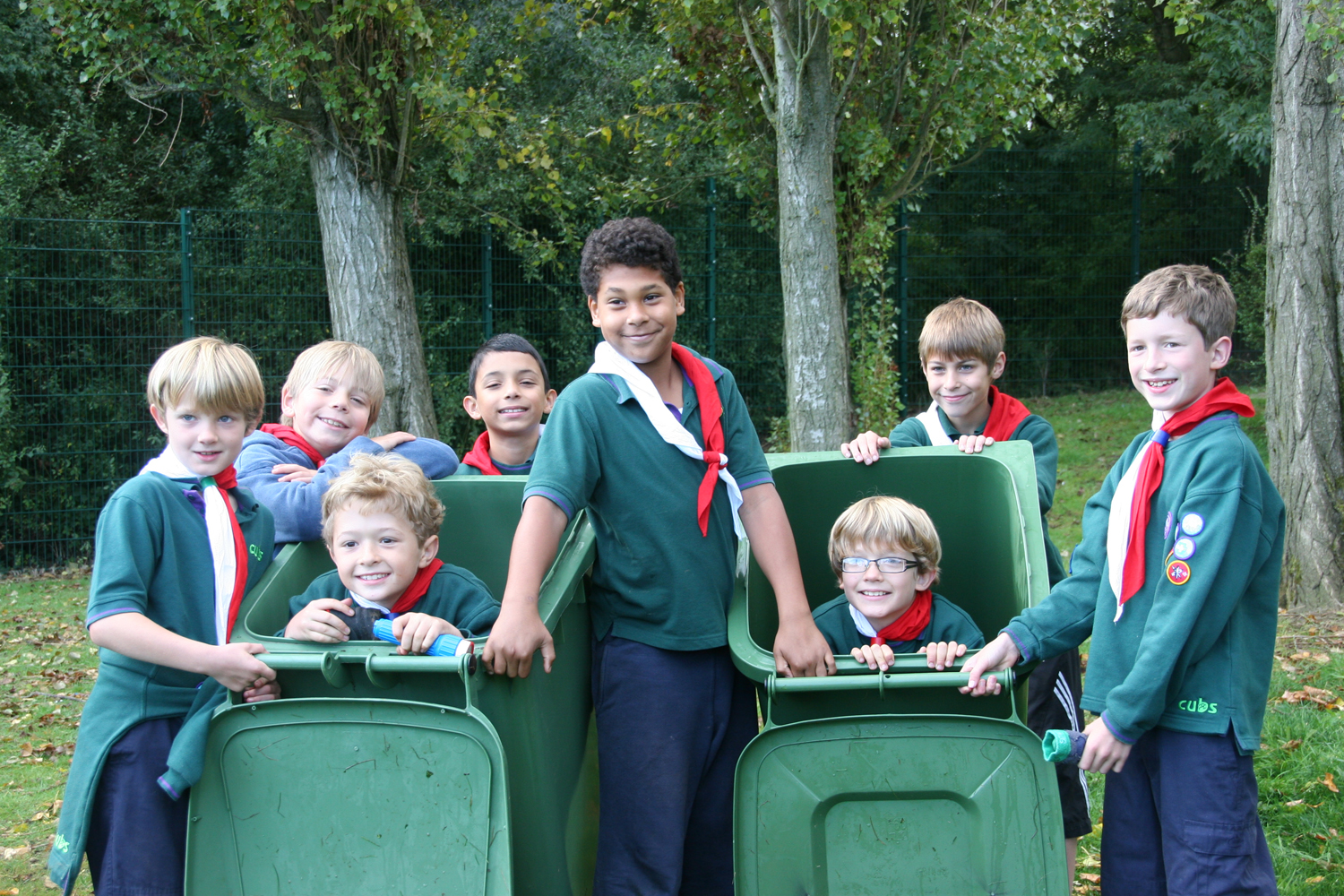 If you spotted hundreds of torches and high vis vests shining around Nash Mills, Kings Langley, Leverstock Green or Bedmond, you will have witnessed the Hertfordshire County Cubs' Night Hike!
809 Cubs and Leaders from across Hertfordshire descended on Hobbs Hill Wood School, where they staked their place for their bed on the floor with a sleeping bag and roll mat, before being fed and watered and shipped out by coach to take part in one of the biggest adventures in the Hertfordshire Scouting calendar.
In groups of 4-8 led by adults, the Cubs used maps and directions to negotiate the 8.1-mile route along the canal, through fields and lanes, stopping off at activity bases along the way to complete tasks supervised by 70 Scouts. The bases were themed on the Cubs' Map Reader badge, and mostly related to their understanding of how to use a map, including identifying map symbols, building a model hill using contour lines, a treasure hunt using a Silva compass and answering questions on a map. In addition, the hugely popular activities of Wheelie Bin Racing (using grid references) and a BBQ were on offer. The total distance walked by the teams is equal to walking from Hemel Hempstead to Honolulu or Jakarta!
2100 sausages, 150 tins of spaghetti, 150 tins of beans, 50 loaves of bread, 800 burgers, 800 rolls, 800 Mars bars, over 300 packets of biscuits… and that's before we even think about breakfast!
The last teams arrived back at Hobbs Hill at 1am and 950 weary bodies settled down to hot chocolate and biscuits before they found their 'bed' on the floor, leaving barely a spare inch of carpet visible across the school!
After a short night's sleep, the hubbub started again, with everyone needing to be fed breakfast of cereals and toast, before the entire group gathered to receive their awards.
Over 400 members of Scouting in Hemel Hempstead, their leaders and parents descended on Phasels Wood for our end-of-year cooking and campfire event.
Youngsters had the chance to cook sausages in foil, make popcorn on stoves, bake pizzas on embers, fry apples in batter, toast marshmallows and cook dough twists.
The evening ended with a campfire – with 1,000 voices joining in… check out the video on our Facebook page.
This weekend over 90 Scouts took part in the annual Nimrod Challenge – a test of teamwork and navigation as teams worked their way through 6 activity bases dotted around the countryside surrounding Phasels Wood.
Congratulations to 1st Kings Langley who took home the winners trophy and also achieved highest placed training team.
Thanks to the Explorer Scouts for organising this activity, with support from Frank (Explorer Leader) and members of the Scout Network and district Scout Active Support Unit for driving minibuses.
Congratulations go to  leaders who have been presented with certificates this month for completing their training and/or to recognise their service as volunteers with the Scout Association:
Chris Larkin (2nd Hemel Hempstead) – completion of wood badge
Gavin Howard (1st Kings Langley) – 10 years adult service
Martin Brooks (2nd Hemel Hempstead) – Chief Scout's Commendation for Good Service
Steve Mooney (2nd Hemel Hempstead) – 20 years adult service
Tony Gaines (4th Hemel Hempstead) – 5 years adult service
Ben Wiggins (1st Leverstock Green) – 10 years adults service
James Board (1st Leverstock Green) – 10 years adult service
If you would like to nominate someone for the Association's adult awards, check the link then all you need to do is email awards[@]hemel-scouts.co.uk with the name and a brief reason why they should be nominated… the appointments secretary will research which award (if any) they are eligible for and write up the citation accordingly, with help from you if necessary.
Awards for long service are issued automatically by the Association's awards team.