Several weeks have passed since I've been able to send a newsletter (technical problems!),  so lots to report ….
News
County Commissioner's Outdoor Challenge – Cubs
Can your Cub section rise to the County Commissioner's Outdoor Challenge for the Summer Term? – details attached – good luck!
Forthcoming dates
Enjoy your Scouting!
Russ
Last night we celebrated our success over the last year at our District AGM… check out our annual report video showing all the fun and adventure enjoyed members of the district over the past 12 months.
In May, June and July 2014, all Scouts (10-14 year olds) had the chance to participate in a district rifle shooting competition during a normal troop evening. We arranged for each troop to spend one evening (more for larger troops) using the range at Phasels Wood and kept track of the scores to announce the winning troop (with scores averaged) as well as top three 10, 11, 12, 13 and 14 year olds.
In total 228 Scouts from all 13 troops took part.
Click here to download the results of the 2014 Rifle Shooting Competition.
Thanks to Jason, Sarah, Georgia, Chris and Vince for running the sessions over the last 3 months!
The results can alos be seen at: www.hemel-scouts.co.uk/activities/rifle-shooting/
Scouts from Hemel Hempstead joined 3,000 others for an action packed annual winter camp in Chingford last weekend.
Boys and girls from the 1st Kings Langley enjoyed activities including abseiling, zorbing, go-karting and white water rafting at the Gilwell Park camp site in west Essex.
Nearly 1,000 voluntary adult leaders accompanied the Scouts, aged between 10 and 18, for the two night trip, during which they stayed in tents and cooked on open fires.
Explorers Scouts and Scouts from 4th Hemel Hempstead are braving the elements this weekend too, at the "Fire & Ice" event held at Tolmers campsite in Cuffley.
Today, 50 Scouts from 10 Groups competed in the 21st HHDS Pinewood Derby.
Over the last few weeks, they had all built and decorated their own cars from a kit – each entrant starts with a block of wood, 4 wheels, 4 nails and 4 axles. From this starting point they design their car keeping within a set of rules. This was the day when their cars were put through their paces.
The cars were raced in 2 groups, on a double elimination method (each car has to lose to 2 others to go out), with the fastest cars going through to a Grand Final.
Prizes of vouchers and goodies were donated by Cotswold Outdoors, and were awarded to the best three decorated cars and the fastest three cars.
Well done to John Larkin and his team of helpers for organising another hugely successful event, and thank you to Cotswold for their generosity in donating the prizes.
84 Scouts, 2 veterans, serving troops, leaders, ambassadors and an MP… armed with shoe boxes and heaps of goodies, and a gift from a new supermarket.
8th November was all about packing boxes for our brave troops in Afghanistan. In less than 20 minutes our fantastic team cleared this room and packed 306 shoeboxes which were then transported to Mike Penning's office to be sealed and sent directly to the troops in time for Christmas.
We would like to thank Aldi who provided a whole pile of goodies even before they open their new store, all our visitors, leaders and young people for the most fantastic team effort, WELL DONE!
Mark Mitchell, CEO of Community Action Dacorum and Local Ambassador for Hemel Hempstead District Scouts said: "Thanks for inviting me to be part of last night. It was super to see 100+ scouts and leaders getting so involved and with such enthusiasm"
Hundreds of Beavers, Cubs, Scouts, Leaders, families and friends from across Hemel Hempstead District wended their way to Phasels Wood on 13th October to find themselves face to face with a Bear!
With a promise of traffic chaos many of our young people hiked to the event from points across the west side of Hemel, with an army of leaders and parents to escort them. As always, everything was organised so well that there was no queue to be seen on the A41 after all.
The GR8 BIG B@SH was the biggest party the campsite has seen since Sunrise back in 2007 when several thousand members camped overnight and renewed their promise to commemorate 100 years of Scouting.
This time the celebration was due to Hertfordshire Scouts having recently announced that membership of Scouting in the county is now at its highest ever, with 16463 members across all ages.
The party was also part of 'Bear in the Air'. Bear Grylls, our Chief Scout, has taken to the skies recently to visit as many major Scouting events as possible, and even the cold, wet weather didn't keep him away. With his helicopter grounded due to low cloud, he arrived by car to a crowd of 3,500 and a carnival atmosphere.
With just a few words on stage to thank the young people and adult volunteers, Bear's message that we need more helpers to fulfil the Scouting programme was loud and clear. Then he waded his way through the crowds of young people to see first hand some of the fantastic activities that are available at our local Scout site.
The cloud lifted, the helicopter arrived and whisked Bear off to his next adventure; but not before he had signed scarves, 'high fived' hundreds and been snapped thousands of times! Our Explorers from HHEX escorted their hero throughout and were feeling very pleased with themselves after he had gone.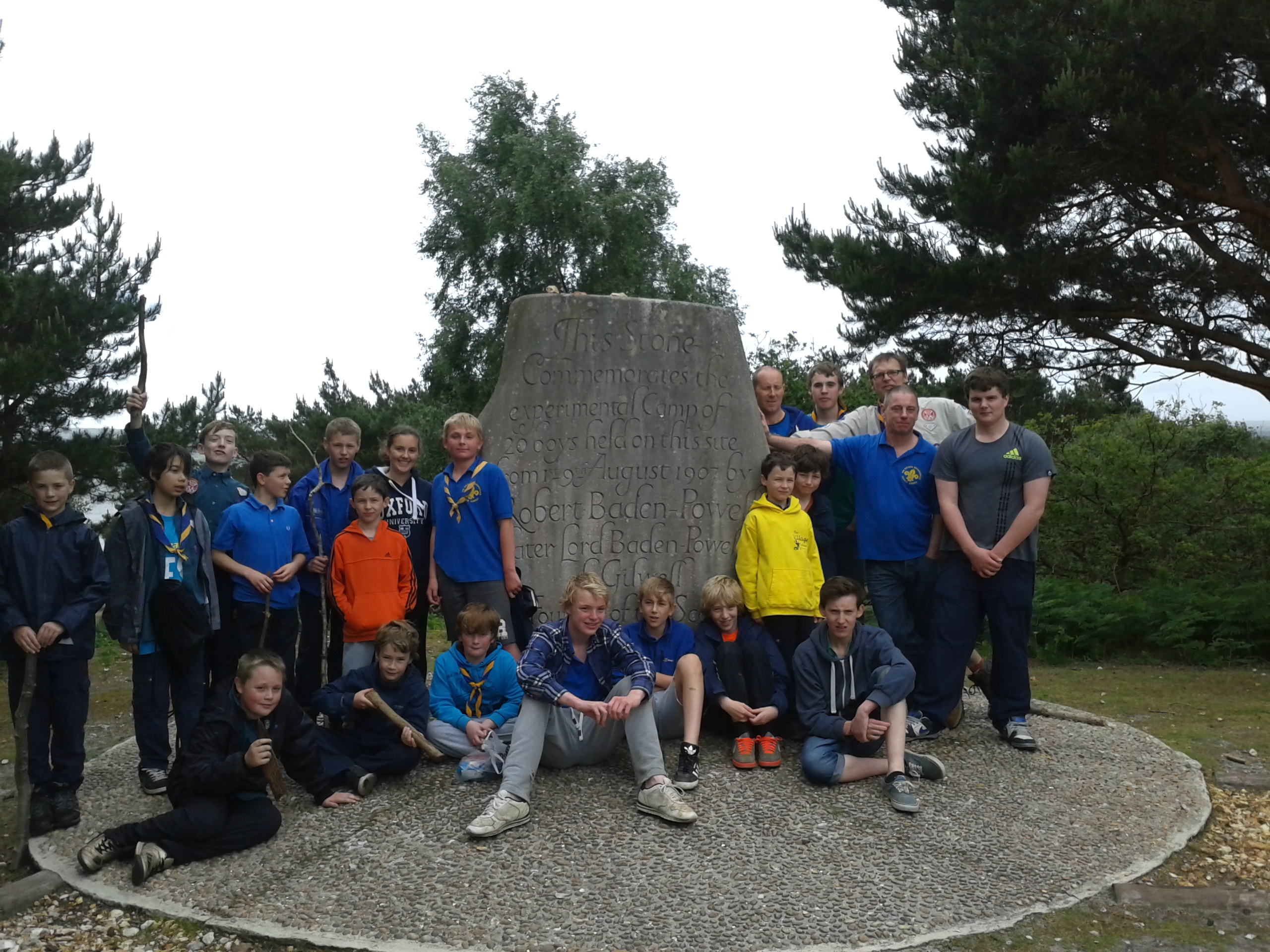 Scouts from 4th Hemel Hempstead spent the weekend on Brownsea Island (the location of the experimental camp in 1907 which led to Baden-Powell starting Scouting).
The picture to the right is of them at the stone which "commemorates the experimental camp of 20 boys held on this site from 1st August 1907 by Robert Baden-Powell, later Lord Baden-Powell of Gilwell, founder of the Scout and Guide Movements".
A great weekend of fun and celebration of Scouting's history.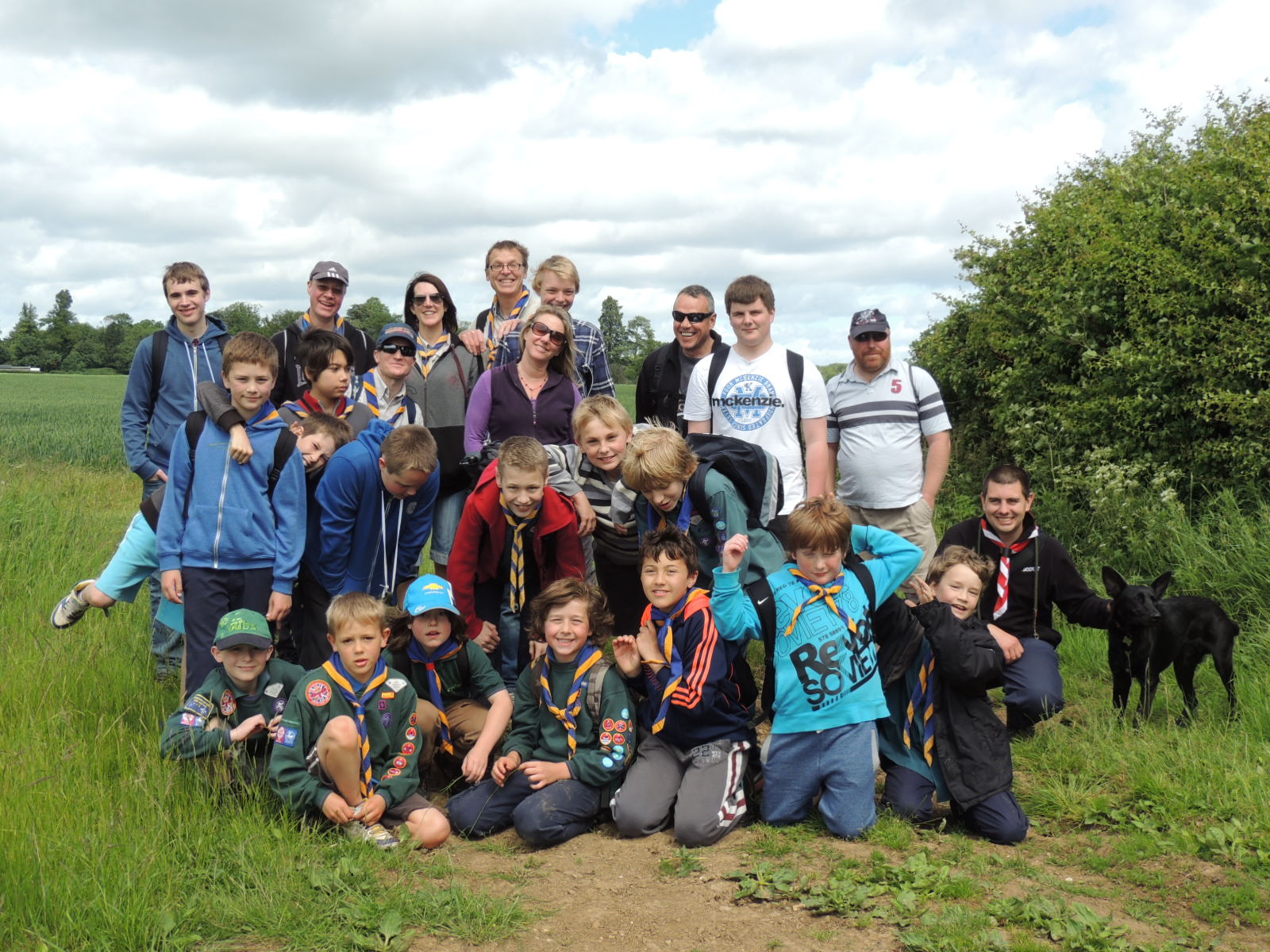 This weekend saw several high-energy fundraising events taking place; a hike, and auction and a quiz night! 4th Hemel Hempstead Scouts kicked off the action early Saturday morning with a sponsored walk. A team of around 30 Cubs, Scouts, Leaders, parents… and two dogs… made the most of the sunshine and hiked 12km in just under 4 hours from Woodhall Farm through Redbourn, Gaddesden and Holtsmere End, raising around £300 for the group's funds.
The walk was closely followed by 1st Leverstock Green holding its Annual 50:50 Auction, where the donor can keep 50% and the Scout Group 50% of proceeds. This has been running for around 30 years and is always a very well supported event, the final sum for 2013 is expected to be £800.
2nd Hemel Hempstead, based at Grovehill Community Centre, held a Quiz Night on Saturday that was won by the youngest team, whose members included some of the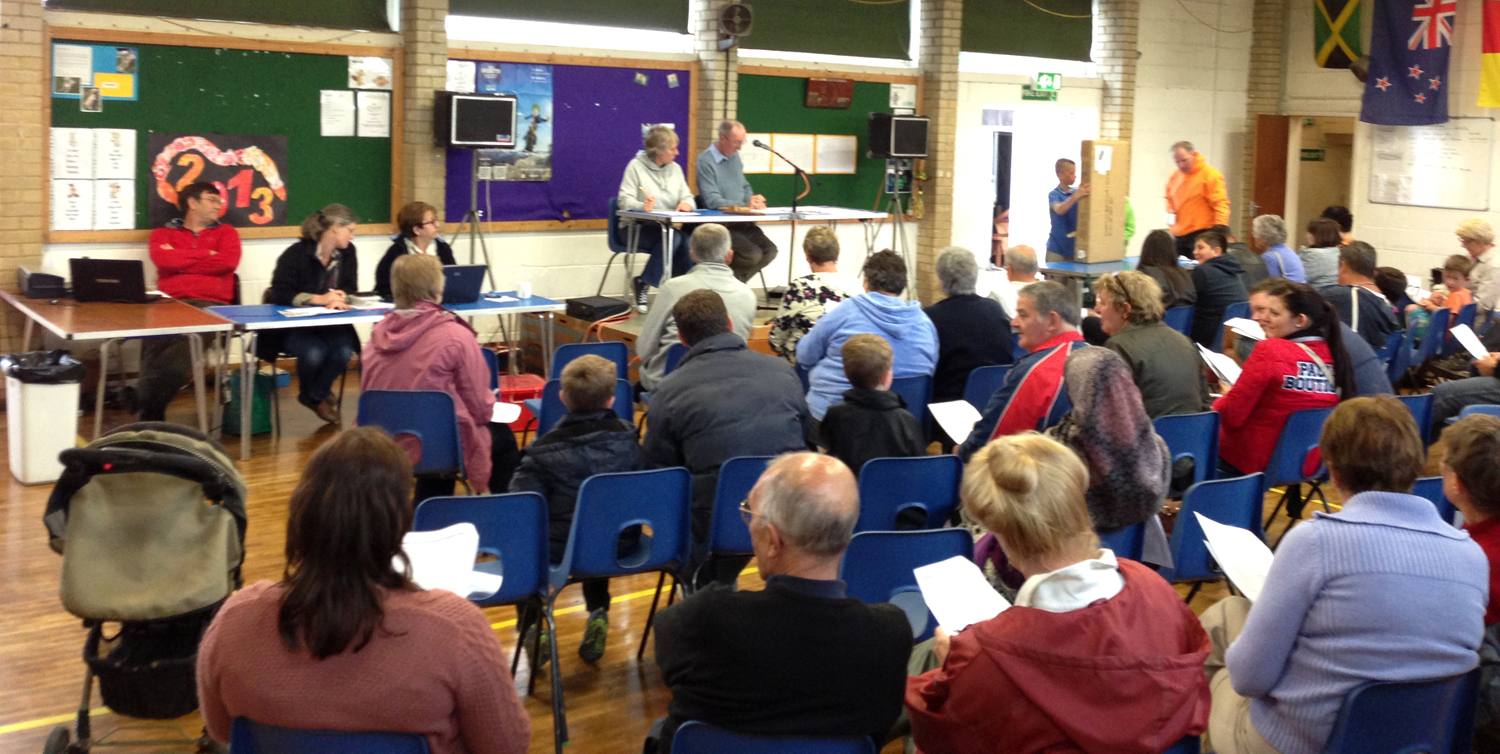 site crew from Phasels Wood camp site. The evening raised the princely sum of £550 thanks to the generosity of attendees and local businesses – Totality Day Spa in Tring, Elliott Reeve Hairdressers in Adeyfield, Laughing Badger Comedy Nights and Alpha Chiropractor clinic in Hemel Hempstead.
Scouting cannot survive without the generosity of supporters, so Hemel Hempstead District would like to say a big 'Thank You' to everyone who helps in whatever way they can.
Cub, Scouts, leaders, parents and dogs from 4th Hemel Hempstead raised around £300 by taking part in a 12km sponsored walk around round Woodhall Farm, Redbourn, Gaddesden and Holtsmere End. Finishing in just under 4 hours (and 10 minutes before the rain started to pour) they had a great morning before the group's AGM over lunch.