Hi
I have attached details of our forthcoming "Family Quiz Night" being run to raise funds to help our seven participants going to the World Scout Jamboree in the USA later this year.
PLEASE ALSO CIRCULATE THIS TO YOUNG PEOPLE / PARENTS IN YOUR SECTION/GROUP.
These evenings are always great fun – and this year's quiz has been put together to be very family-friendly.
A ploughman's supper is included within the ticket price – there will also be a bar serving alcoholic, hot and cold drinks at very reasonable prices.
Please do try to put together a team (up to 8 people) and enjoy the evening!
Thanks
on behalf of the Jamboree fundraising team
Unfortunately, due to slower than expected ticket sales, the winetasting evening has been cancelled.
Paypal payments have been refunded and other cheques/cash will be returned.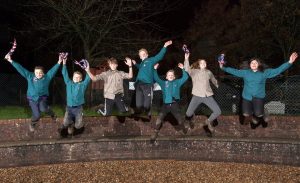 Today we are formally announcing the seven lucky Scouts and Explorers who have been selected to represent Hemel Hempstead at the World Scout Jamboree in West Virginia, USA in 2019! They are: Josh Lee, Ollie Myatt, Becky Harding, Nate Jermy, Timmy Gower, Jen Bishop and Tom Rumble.
They are now starting on their long journey of fund-raising and will soon be joining one of the Hertfordshire Units which will represent the UK at the Jamboree. Selection was long and our seven were picked not necessarily for merit, but to support them with confidence building, independence, self-belief and acceptance.
We hope you will support their events – you will see them at Bunnings Sausage Sizzles through next year and they will be hosting the District Quiz night on Saturday 24th March 2018. The District Jamboree launch event will be on Wednesday 4th July!
Pictures courtesy of John Larkin.
The 24th World Scout Jamboree will take place in 2019 in North America, following a collective bid of Canada, Mexico and USA.