1st Apsley Beaver Scouts Bumper Weekend of Fun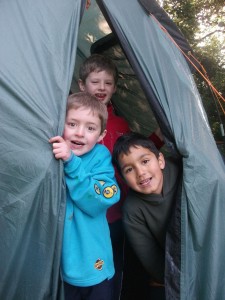 Beaver Scouts from 1st Apsley Scout group had two reasons to smile this weekend – despite the rain!
On Friday evening, 20 boys and girls (aged 6-8) became the first in Hemel Hempstead to spend a night under canvas at a camp especially for Beaver Scouts, thanks to a recent change in the rules by the Scout Association.
The youngsters had a great time cooking their dinner on a fire, singing songs and making bird boxes. Jess Arthurs (7) said: "My brother has been to camp as a Cub Scout loads of times, now I've come and it's even better than I thought!"
Sunday saw a different group of children from the 1st Apsley group travel to Tolmers activity centre in Cuffley for a fun day to celebrate the 25th anniversary of the creation of Beaver Scouts. Despite the rain the children still enjoyed climbing, abseiling an inflatable obstacle course and indoor activities like the rolling climbing wall, curling along and craft activities. Simon Fancourt, Scout Leader, said "the activities 1st Apsley have been on this weekend just goes to show how much fun Scouting can give youngsters, even the rain couldn't dampen the spirits"!
To see pictures from this activity, visit the Photo Gallery.