Scout Community Week 2014
This week was Scout Community Week and across Hemel Hempstead Beavers, Cubs and Scouts have been working hard to make a difference. Most Scout Groups across the town were involved in projects, and here are just a few…
2nd Hemel Hempstead went out and about on Wednesday in Grovehill, with Beavers litterpicking around Henry Wells Square, the children's playground and at the church and community centre, while the Cubs helped out at Astley Cooper School clearing litter from the perimeter fence, and checking the play areas. Between Beavers and Cubs they filled 7 bags of rubbish. The Scout Troop spring cleaned the kitchen store at the community centre and disposed of unwanted items.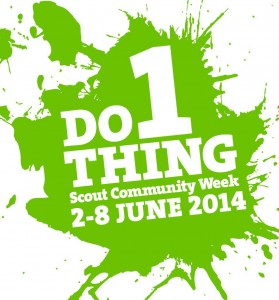 1st Hemel Hempstead cleaned up around the hospital on Saturday. Despite getting soaked, they picked litter from across the site and filled a dozen sacks with cans, food wrappers and even old car parts that had been thrown away.
1st Gadebridge also got in on the action with a litter pick in the area around their HQ, collecting lots of bags of rubbish and making Gadebridge a much tidier place!
Meanwhile, 1st Apsley decided to support the wider community, and continue the theme of supporting our troops after the success of the Treats 4 Troops campaign last November. This year is the 80th anniversary of the date that 1st Apsley was registered with the Scout Association, although the group has been traced back to before the 1st world war. To celebrate, they held a party camp at Phasels Wood over the weekend, with 130 youngsters taking part.
After discussion with RAF Halton about what the RAF personnel working overseas are in need of, it was agreed that the young people of 1st Apsley would send T shirts out to our RAF troops overseas. They wanted them to know that they are being thought of back home, so each Beaver, Cub, Scout and Explorer Scout tie-dyed a T shirt to send to a member of the Air Force working abroad. In a couple of weeks time, personnel based at RAF Halton will be visiting 1st Apsley Scout Group to meet the young people who donated and decorated the T shirts, and receive them on behalf of their forces.
The party camp continued with plenty of other activities, including a hike to the Scout hut to try the new canoeing lake at the newly formed Two Waters Activity Centre, and onsite activities at Phasels, such as climbing, inflatable football, team challenges and a lovely party!
Everyone was in good spirits during their tasks, supporting the hospital, Grovehill Future Project, the RAF and many other projects around our community.