Summer term (yes, really, it IS summer!) is speeding by, and all groups in the District are enjoying a wide variety of activities!
News
Take a look at the District facebook page for more – and keep sending your news/photos to let us all know what you've been doing.
Forthcoming dates
Don't forget the Go-Karting activity is available this half-term on Wednesday evenings – letters attached (for sections who want to make a block booking, and also for young people to go independently).
Happy Scouting!
Russ
I hope you had an enjoyable Easter weekend – and remembered to change your clocks to British Summer time!
News
It's been a busy couple of weeks since the last update –
Two Waters Activity Centre have been busy this Bank Holiday weekend with kayak sessions for Scouts and Explorers at RAF Halton's indoor pool.
Gift Aid Update
HMRC have published new model wording for Gift Aid Declarations to be used from 5th April 2016.  The new declaration wording has been shortened and simplified removing references to Council Tax and VAT.  Scout groups are able to claim Gift Aid on membership subscriptions and donations for sponsored events and should use the new Gift Aid declaration form for any donations from 5th April 2016 onwards.  Declarations that are already in place do not need to be updated.
Forthcoming dates
Enjoy your Scouting!
Russ
News
The District has seen a very busy start to 2016 across all sections!
Check out the Hemel Hempstead District Scouts facebook page to see more!
International News
Please find attached this month's "International Matters" newsletter from Hertfordshire Scouts.

Kandersteg 2017 – we have an amazing number of young people and adults registered to take part in our District Expedition to Kandersteg International Scout Centre next year.
Forthcoming dates:
Thanks, as always, for all that you do for Scouting.
Russ
Three years ago, Simon Fancourt, Kerry Sayers and Keith Gower took on the challenge of re-opening 1st Gadebridge from it's "dormant" state. I'm pleased to say it's now thriving with two Beaver Scout colonies and a Cub Scout pack open with parents having volunteered as leaders, assistants and committee members.
Acting Group Scout Leader appointed
I have asked Simon (and he has agreed) to be acting Group Scout Leader for the group officially – this means that he can lead the adult team in taking the group to the next stage of its development. This will take effect from the group's AGM this Friday (10th July).
The next stage of development
The group has opened a second beaver colony this year and looks to open the second cub pack in 2016, along with plans to look at a third colony in the future. This will help provide Scouting for youngsters in the Gadebridge and Warners End area.
In addition, they have plans to continue the physical improvements to the hall and ground – having redecorated inside, tidied up the grounds and made the trees safe outside they have received a grant enabling them to erect proper fencing to secure the grounds.
As part of a project led by the Scout Association, they have also been nominated as the "buddy" group for new sections hopefully opening at the Collette School over the next few months.
Into the future
To meet demand from Cubs coming from 1st Gadebridge and 3rd Boxmoor, we will be looking to open at least one Scout Troop in the 2016/2017 academic year – likely to meet at the 1st Warners End HQ.
I am already on the search for a team of adults interested in working towards this – please let me know if you're interested.
Thanks
Russ
Last night we celebrated our success over the last year at our District AGM… check out our annual report video showing all the fun and adventure enjoyed members of the district over the past 12 months.
This week was Scout Community Week and across Hemel Hempstead Beavers, Cubs and Scouts have been working hard to make a difference. Most Scout Groups across the town were involved in projects, and here are just a few…
2nd Hemel Hempstead went out and about on Wednesday in Grovehill, with Beavers litterpicking around Henry Wells Square, the children's playground and at the church and community centre, while the Cubs helped out at Astley Cooper School clearing litter from the perimeter fence, and checking the play areas. Between Beavers and Cubs they filled 7 bags of rubbish. The Scout Troop spring cleaned the kitchen store at the community centre and disposed of unwanted items.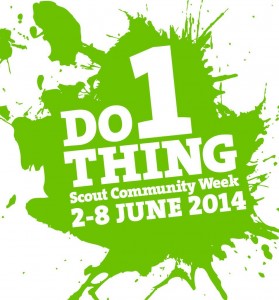 1st Hemel Hempstead cleaned up around the hospital on Saturday. Despite getting soaked, they picked litter from across the site and filled a dozen sacks with cans, food wrappers and even old car parts that had been thrown away.
1st Gadebridge also got in on the action with a litter pick in the area around their HQ, collecting lots of bags of rubbish and making Gadebridge a much tidier place!
Meanwhile, 1st Apsley decided to support the wider community, and continue the theme of supporting our troops after the success of the Treats 4 Troops campaign last November. This year is the 80th anniversary of the date that 1st Apsley was registered with the Scout Association, although the group has been traced back to before the 1st world war. To celebrate, they held a party camp at Phasels Wood over the weekend, with 130 youngsters taking part.
After discussion with RAF Halton about what the RAF personnel working overseas are in need of, it was agreed that the young people of 1st Apsley would send T shirts out to our RAF troops overseas. They wanted them to know that they are being thought of back home, so each Beaver, Cub, Scout and Explorer Scout tie-dyed a T shirt to send to a member of the Air Force working abroad. In a couple of weeks time, personnel based at RAF Halton will be visiting 1st Apsley Scout Group to meet the young people who donated and decorated the T shirts, and receive them on behalf of their forces.
The party camp continued with plenty of other activities, including a hike to the Scout hut to try the new canoeing lake at the newly formed Two Waters Activity Centre, and onsite activities at Phasels, such as climbing, inflatable football, team challenges and a lovely party!
Everyone was in good spirits during their tasks, supporting the hospital, Grovehill Future Project, the RAF and many other projects around our community.









I am delighted to announce that the Chief Scout has awarded the following individuals with the Chief Scout's Commendation for Good Service. These awards recognise individuals who go "over and above" what's expected of them in their Scouting role.
Full citations will be read when the awards are presented, but below gives you a flavour of why each of them was nominated by someone else in the district.
Vince Allen – for supporting two sections each week at 1st Leverstock Green, Bushcraft and always being willing to help with practical repairs and making new activities.
Sean d'Arcy – for consistent reliability at 1st Leverstock Green Scout Troop (both on Friday evenings and with other tasks) plus support at many district events, particularly co-ordinating the district's bases at Green Beret.
Christine Dickens – for her help with numerous district activities, both on the day and "behind-the-scenes".
Lina Dyble – for her role as assistant treasurer at 1st Leverstock Green, helping at the scout shop, district events and to recognise her previous efforts supporting the district with admin tasks.
Jason Farmer – for efforts as Scout Leader at 1st Bennetts End, the district Bushcraft activity as well as helping St. Albans at Lochearnhead and with their gang show for the past few years.
Andy Glass – for continuing to give 1st Bennetts End stable leadership over the last 5 years plus supporting the organisation many districts activities and a pivotal role in Cubjam 2013.
Jo Hirons – for co-ordinating the Young Leader scheme and being part of the District's appointments advisory committee on top of supporting weekly Explorer meetings and weekend events.
Alan Oxtoby – for supporting the Explorer section as ESL in addition to his role as ASL at 1st Leverstock Green and support at many district activities.
Kerry Sayers – for supporting 1st Gadebridge as well as Beaver Colonies and Cub Packs at 1st Apsley and numerous district activities.
Maureen Shelley – for many hours spent administering district activities in addition to her tireless work as District Explorer Scout Administrator.
Robin Smith – for his support with the district sailing activity evenings and being AESL in St. Albans, as well as being an ESL in Hemel Hempstead.
Nominations for awards can be made at any time during the – individuals being put forward for awards must have at least been involved with Scouting as an adult for at least 5 years (unless in very exceptional circumstances) and have completed the training required for their current role(s).
If you wish to nominate someone, please email awards[@]hemel-scouts.co.uk
A total of 130 cubs from 10 Hemel Hempstead scout groups have been working to achieve their Astronomers' Badge.
To help them reach their target, 14 bases were set up at Hobbs Hill Wood School including: Design Our Own Constellation; Eclipses; Quizzes, Building Solar System Models; Building Rockets, IT Research and more.
This is the start of a three-year cycle that will see set days for cubs to work together in order to gain activity badges, such as Artist, Scientist and Astronomer, on a rotational basis.