Following our district's successful trip to Lochearnhead Scout Station 2014, we plan to return again in 2020. Please indicate your interest in taking part in this trip using the form below and you will be contacted about forming the leadership team later in the Spring term (2018).
Following our district's successful trip to the Haarlem Jamborette as an alternative to the World Scout Jamboree in 2015, we plan to return again in 2019. Please indicate your interest in taking part in this trip using the form below and you will be contacted about forming the leadership team later in the Spring term (2018).
District Diary updated on the website
Ahead of tomorrow's New Year's celebrations, the diary has been updated on the district website. It's possible to browse the future events, print a list or subscribe electronically for updates: www.hemel-scouts.co.uk/diary
If you use Google Calendar, click the link below to subscribe for updates: Click here to subscribe in Google Calendar. Subscription for other calendar services are available from the web page.
Enquiries from potential members
As always, we expect Simon will be inundated with enquiries from potential new members in January.
Our understanding of the available spaces is summarised in the table at: www.hemel-scouts.co.uk/join – if you know differently, please let him know: join@hemel-scouts.co.uk.
I hope you had a very Merry Christmas and were able to celebrate with family and friends.
Just a quick reminder about our January leader's meeting:
Date: Thursday 4th January
Time: 7.45pm for 8pm start
Venue: Hobbs Hill Wood Primary School
There will be a quick update from District Chairman, Keith Gower, on the search for the next District Commissioner as well as the usual "district update" slot from me.
Just because I'm moving on from the role, the diary of activities already planned won't be affected.
It's full steam ahead for a busy year with some excellent events planned for this year so please ensure someone from section attends to find out about the forthcoming events in 2018!
Wishing you an enjoyable New Year's celebrations and looking forward to seeing you on the 4th January!
Russ
Please find details below and attached for the Swimming Gala
Hemel Hempstead Sportspace Leisure Centre on
Saturday 3rd  February 2018
Cubs – 6.45 p.m. for a 7.15 p.m. start time
Scouts – 7.15 pm for an 8.00 p.m.'ish' start.
Andy
Hi
Please find details below and attached for the Animal Care Badge Day.
Date: Sunday 28th January 2018
Venue: Hobbs Hill Wood School, Peascroft Road HP3 8ER
Time: 1.45-4.00 pm
The Beavers will be learning how to care for animals with some interesting craft activities.
If you wish to be part of this event, please return the money and forms to Maureen Shelley at
1 Crossfell Road HP3 8RB by Sunday 21st January 2018.
If you have any queries, please contact Michelle by email dmwoodall@ntlworld.com
Andy
Andy
Date set is Sat 24th Feb at the 1st HH scout HQ in Queensway. We have to limit the number of kits to 120 and last year they all were taken. Orders have to go in before Xmas as I get them from USA and I only place the one order to keep carriage costs down. So please ask your scouts if they would like to take part and only order the number of kits that you definitely would take.
We will be racing on the 40 foot 4 lane metal track, league racing with everyone in at least 4 races. We will be using the USA kits at a cost of £5 (wood, wheels, axles) from which you make a car or vehicle of some sort and then they are raced on a special track to see which car goes the fastest. Cars are raced in groups, the fastest cars from each group race in a final.
There are prizes for the best made cars, split into age groups, and for the overall fastest and runner up. Spectators are welcome on the day. The event usually ends around lunchtime.
The wheels are really easy to fit, so it just comes down to the bodywork cutting, shaping and additions plus paint work is what is required. Scouts can get help to shape the block but the design and finishing (paintwork) must be entirely the scouts own work.
Troops are encouraged to take part and to adopt an evening in their programme when they can invite dads to come along with a few tools and help to shape the blocks (could be a way of getting parents more involved).
No cars from last year can be entered, they all must be new.
Enclose are some ideas of what to make.
Please ask your scouts as soon as possible who would be interested and email me by Sat 16th Dec 2017 latest with the number you would like. Please honour your commitment and plan into your program to discuss ideas with them. A full set of rules will accompany the kits which will be available very early in January.
Any assistance with prizes will be most welcome.
Preferred payment is cash, it can be collected in the New Year and cash/cheques can be given in exchange for the kits before end on Jan, each troop collect funds in hand, receipts can be given if required.
Can you please respond to this by Sat 16th Dec 2017 by emailing John on jlarks@btinternet.com, I will confirm that I have received it.
Regards
John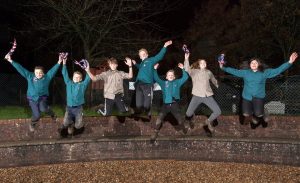 Today we are formally announcing the seven lucky Scouts and Explorers who have been selected to represent Hemel Hempstead at the World Scout Jamboree in West Virginia, USA in 2019! They are: Josh Lee, Ollie Myatt, Becky Harding, Nate Jermy, Timmy Gower, Jen Bishop and Tom Rumble.
They are now starting on their long journey of fund-raising and will soon be joining one of the Hertfordshire Units which will represent the UK at the Jamboree. Selection was long and our seven were picked not necessarily for merit, but to support them with confidence building, independence, self-belief and acceptance.
We hope you will support their events – you will see them at Bunnings Sausage Sizzles through next year and they will be hosting the District Quiz night on Saturday 24th March 2018. The District Jamboree launch event will be on Wednesday 4th July!
Pictures courtesy of John Larkin.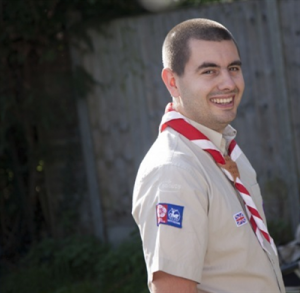 From the County Commissioner, Liz Walker:
Due to increasing business commitments, Russ has informed me that he will not continue in the role of District Commissioner beyond his agreed 5 year term, which ends on 28th February 2018.
I'm sure you'll join me in thanking him for the effort and enthusiasm he has put into the role since he started in March 2013.
We have agreed a timetable for his departure to recruit a suitable replacement and ensure a successful transition:
1st Dec – Search commences

31st Dec – Search closes

Jan 2018 – Interviews

Feb 2018 – Appointment and handover

28th February – Russ' last day as District Commissioner
A search group of 5 people will now be formed and details about the role and how to apply will be sent out in early December. Steve Harris has agreed to act as secretary to the search group and will distrbute these documents.
Between now and the end of February; Russ has agreed a number of priorities with the District Executive and I to be completed alongside the day to day responsibilities:
Oversee the recruitment is the district's part-time employed administrator.

Supporting the newly-recruited Jamboree participants establish their fundraising group and set a plan to raise £26,250.

Hand over the Young Leader administration role to Julie Bailey (district secretary)

Set up activity training working groups for those who expressed an interest in obtaining activity permits in the survey sent out earlier in the Autumn term.

Complete a review of the financial situation across the two District-managed buildings (Boxmoor & Warners End) – including a new hirer at Warners End HQ to increase income.

Ensure the District Diary is loaded onto the website and a hard copy District Directory is issued.

Ensure the Promise Renewal event on 23rd April is properly organised, marketed and ready to be successfully delivered.
Further details about the search process will follow in due course.
County Commissioner – Hertfordshire Scouts
OPEN FOR NEW MEMBERS AND PREVIOUS MEMBERS WHO WISH TO CONTINUE – NOW IN IT'S 11th YEAR.
Please note: Everyone interested must register their interest including those on the current course (see below).
From Baden Powell's initial ideals and Chief Scout Bear Gryll's TV popularity, invitation to be part of this ever popular group. The course is constantly evolving, adding in new skills, new equipment, it just gets better and better.
Participate in the practical side of woodcraft and backwoods skills, camping without a tent.
Work in own age groups; scouts, explorers, adults & leaders.
Parents may join in too as long as they are DBS/CRB cleared by their Group
It is fundamentally:
Designed for anyone from 'Scouts (must be over 11) to Adults' in the District.
Fun for all, no previous bushcraft experience required.
You need to have camped under canvas previously (with your own scout group).
Not requiring specialised equipment to take part as this is provided.
Allows you to try out something you have never done before and be more self sufficient.
Some of the many skills you may wish to try out:
Make a shelter from 'tarp' or natural materials and sleep in it.
Using a Knife, Axe and Saw in the Bushcraft way.
All you need to know about fires and starting them without a match.
Identifying and collecting wild foods.
Preparing and cooking animals and fish.
Making gadgets from natural materials.
How to collect and make safe drinking water.
Using and sleeping in a hammock
Opportunity for Scouts and Explorer Scouts to gain their Survival badge
Dates for 2018 are in the attached flyer.
If you wish to take part in this popular group for 2018 you will need to register or re-register (if existing member):
Register your interest on-line only by emailing to hemelbushcraft@btinternet.com
Give your name (those taking part), date of birth (if under 18), scout group, address, contact Tel Nos.
Be sure to put the dates on your calendar and register on-line to hemelbushcraft@btinternet.com
John & the bushcraft team