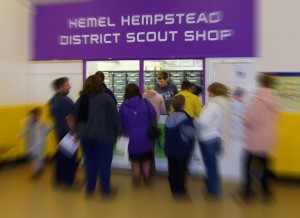 Full range of uniforms for Beavers, Cubs, Scouts and Explorer Scouts in stock, adult uniforms to order. Badges for section leaders are available along with many special items.
Opening Times
Hemel Hempstead District Scout Shop is open every Tuesday during term time from 7.00pm – 8.30pm.
The shop is located at Hobbs Hill Wood Primary School, Peascroft Road, HP3 8ER.
Download our leaflet
The leaflet contains the opening times, location, direction and dates we're open.
The Catalogue
Any item from the national catalogue can be ordered and available usually within 2 weeks.
Placing and Order
To place an order or to send an enquiry – email shop@hemel-scouts.co.uk. Please state your name, Group (if any) and telephone number with your order/enquiry.
What happens to the profit from the shop?
Profits from items purchased from the District Shop go to support Scouting in Hemel Hempstead – currently the shop provides enough income to reduce the annual membership subscription payment by £3 per member.
District Scout Shop Downloads
Ever needed to know exactly where all of your Scouting Badges are positioned?