News
More than 180 Cubs enjoyed an amazing, star-gazing afternoon completing their Astronomers Badge
2nd Hemel Hempstead Cubs spent an evening learning about 

making Safe Choices, Peer Pressure, Bullying and Safe Adults – all part of the Billy's Wish education programme.

1st Leverstock Green Kestrel pack did the Mannequin Challenge as part of the Entertainer badge!
Forthcoming events
7th December – Training & Permit Validation Workshop
10th December – Caving day hosted by Complete Outdoors, raising money for Hemel Hempstead District Scouts
16th December – Cub Promise Outing event – there are still places available, contact Maureen Shelley if you have any more Cubs who would like to join in the ice-skating fun!

28th January – District Quiz Night – make sure you put the date in your diary, full details to follow in the New Year

Bushcraft 2017 – if you want to learn more Bushcraft skills, it's time to register for the 2017 programme – email hemelbushcraft@btinternet.com for more information.
Don't forget to keep sending news and photos of your activities for us to share with everyone.
Enjoy your festive scouting over the next few weeks!
Russ
It's beginning to feel very autumnal, and the slight chill in the air has me looking forward to the great seasonal activities this time of year brings!
News
1st Bovingdon Cubs had a fun afternoon taking part in the County Cub Cyclocross Competition
1st Hemel Hempstead scouts went under-water at Hemel Sportspace
 

2nd Hemel Hempstead Scout group proudly took part in the Harvest festival service yesterday morning at the Church of Ressurection in Grovehill, and lots of food was donated for DENS
Forthcoming Events
Enjoy your scouting!
Russ
Last night we celebrated our success over the last year at our District AGM… check out our annual report video showing all the fun and adventure enjoyed members of the district over the past 12 months.
In May, June and July 2014, all Scouts (10-14 year olds) had the chance to participate in a district rifle shooting competition during a normal troop evening. We arranged for each troop to spend one evening (more for larger troops) using the range at Phasels Wood and kept track of the scores to announce the winning troop (with scores averaged) as well as top three 10, 11, 12, 13 and 14 year olds.
In total 228 Scouts from all 13 troops took part.
Click here to download the results of the 2014 Rifle Shooting Competition.
Thanks to Jason, Sarah, Georgia, Chris and Vince for running the sessions over the last 3 months!
The results can alos be seen at: www.hemel-scouts.co.uk/activities/rifle-shooting/
This week was Scout Community Week and across Hemel Hempstead Beavers, Cubs and Scouts have been working hard to make a difference. Most Scout Groups across the town were involved in projects, and here are just a few…
2nd Hemel Hempstead went out and about on Wednesday in Grovehill, with Beavers litterpicking around Henry Wells Square, the children's playground and at the church and community centre, while the Cubs helped out at Astley Cooper School clearing litter from the perimeter fence, and checking the play areas. Between Beavers and Cubs they filled 7 bags of rubbish. The Scout Troop spring cleaned the kitchen store at the community centre and disposed of unwanted items.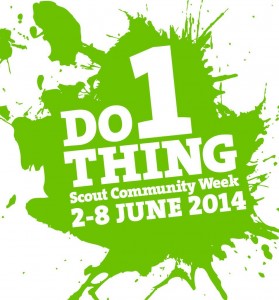 1st Hemel Hempstead cleaned up around the hospital on Saturday. Despite getting soaked, they picked litter from across the site and filled a dozen sacks with cans, food wrappers and even old car parts that had been thrown away.
1st Gadebridge also got in on the action with a litter pick in the area around their HQ, collecting lots of bags of rubbish and making Gadebridge a much tidier place!
Meanwhile, 1st Apsley decided to support the wider community, and continue the theme of supporting our troops after the success of the Treats 4 Troops campaign last November. This year is the 80th anniversary of the date that 1st Apsley was registered with the Scout Association, although the group has been traced back to before the 1st world war. To celebrate, they held a party camp at Phasels Wood over the weekend, with 130 youngsters taking part.
After discussion with RAF Halton about what the RAF personnel working overseas are in need of, it was agreed that the young people of 1st Apsley would send T shirts out to our RAF troops overseas. They wanted them to know that they are being thought of back home, so each Beaver, Cub, Scout and Explorer Scout tie-dyed a T shirt to send to a member of the Air Force working abroad. In a couple of weeks time, personnel based at RAF Halton will be visiting 1st Apsley Scout Group to meet the young people who donated and decorated the T shirts, and receive them on behalf of their forces.
The party camp continued with plenty of other activities, including a hike to the Scout hut to try the new canoeing lake at the newly formed Two Waters Activity Centre, and onsite activities at Phasels, such as climbing, inflatable football, team challenges and a lovely party!
Everyone was in good spirits during their tasks, supporting the hospital, Grovehill Future Project, the RAF and many other projects around our community.









Scouts from across the district partied the night away last Friday, having hiked from their usual meeting place to Phasels Wood where a disco and party food had been laid on.
A Chief Scout Gold award was presented during the evening, as was the inaugural "Dave Barnes Memorial Trophy" – to 1st Kings Langley who had the highest place training team in July's Nimrod Challenge.
Today, 50 Scouts from 10 Groups competed in the 21st HHDS Pinewood Derby.
Over the last few weeks, they had all built and decorated their own cars from a kit – each entrant starts with a block of wood, 4 wheels, 4 nails and 4 axles. From this starting point they design their car keeping within a set of rules. This was the day when their cars were put through their paces.
The cars were raced in 2 groups, on a double elimination method (each car has to lose to 2 others to go out), with the fastest cars going through to a Grand Final.
Prizes of vouchers and goodies were donated by Cotswold Outdoors, and were awarded to the best three decorated cars and the fastest three cars.
Well done to John Larkin and his team of helpers for organising another hugely successful event, and thank you to Cotswold for their generosity in donating the prizes.
Scouts from five Groups across Hemel Hempstead teamed up at Ashridge on Saturday to help the National Tree Council plant a new orchard, on the first day of National Tree Week.
Led by 1st Warners End Scouts leader Matt Smith, a gardener at Ashridge House, 17 Scouts replanted a total of 33 apple, pear and cherry trees, to reinstate an orchard that was on the same site in the mid 1800s, at the rear of the main house, and adjoining the stunning gardens. Four members of Ashridge staff also joined the team to guide the scouts through the task. This exercise counts towards the Community Challenge Badge.
This is part of a greater project to restore the gardens at Ashridge to their former beauty, and as always, Hemel Hempstead District Scouts were happy to lend a hand. During the afternoon, the team learned how to plant the trees, why they are planted in a certain way, and discovered a little about the history of the orchard and Ashridge House.
This is the 40th anniversary of active tree planting nationally, since the 'Plant a Tree in 73' campaign was launched.
There is a great need nowadays to counterbalance the declining tree population caused by ash dieback, chestnut leaf miner and other diseases; the National Tree Council sponsored some of the trees.
A total of 130 cubs from 10 Hemel Hempstead scout groups have been working to achieve their Astronomers' Badge.
To help them reach their target, 14 bases were set up at Hobbs Hill Wood School including: Design Our Own Constellation; Eclipses; Quizzes, Building Solar System Models; Building Rockets, IT Research and more.
This is the start of a three-year cycle that will see set days for cubs to work together in order to gain activity badges, such as Artist, Scientist and Astronomer, on a rotational basis.