Next Summer (26 July – 9 August), the district will return to Scotland for two weeks of activities, based at the Lochearnhead Scout Station. Activities likely to be on offer include: hill-walking, mountain biking, sailing, canoeing, white water rafting and a day trip to the Highland Games (or similar).
In order to start the planning, we need to know which adults are intending to come as part of the leadership, catering and activity teams as this has a bearing on the number of spaces we can offer, the activities we're able to offer and the final price of the trip.
The maximum cost for adults will be (£250) – inclusive of all travel, food and accommodation costs.
Training may be available for activities requiring permits, there is a chance to express interest in this on the form too.
Further details, firm costs and a registration form will be published at the end of the Summer term.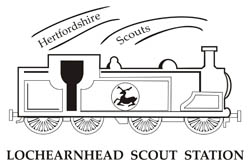 Please find an initial leaflet attached about the district expedition to Lochearnhead in July/August 2014 for distribution to Scouts who will be 12+ next Summer, Explorer Scouts and Network  members.
At this stage we want to hear from anyone who might be interested in attending – adults and youngsters. Drop an email to lochearnhead[@]hemel-scouts.co.uk if you're interested in coming as a leader, cook or activity instructor – more details will be available during the Summer term.
Download: Lochearnhead 2014 leaflet